---
(1970 Fall): SF GREATS #19
(1980): THE GOLDEN MAN {Ed.: Mark Hurst} Berkley, pb, 04288, 1980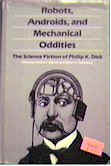 (1984): ROBOTS, ANDROIDS AND MECHANICAL ODDITIES,
(1987): THE LITTLE BLACK BOX/THE EYE OF THE SIBYL
(1991): WE CAN REMEMBER IT FOR YOU WHOLESALE, Grafton,


THE GOLDEN MAN story notes by PKD
"A Game Of Unchance"
I feel the same way about this litle story as I do about Harlan Ellison: I love the little bastard. it's a well-constructed story, with what for me (in rereading it) is a totally unexpected ending. A carnival is feral; another carnival shows up and is pitted against the first one; and the antithetical interaction is preplanned in such a way that the first carnival wins. It's as if the two opposing forces that underlie all change in the universe are rigged; in favor of thanatos, the dark force, yin or strife, which is to say, the force of destruction.
---
---
Return to philipdick.com